o Summon Shub-Niggurath Ye Black


here the stones have been set up thou shalt call out to Shub- Niggurath, and unto he that knoweth the signs and uttereth the words all earthly pleasures shall be granted.
When the sun entereth the Sign of the Ram and the time of night is upon ye turn thy face to the North wind and read the verse aloud:
Iah ! SHUB-NIGGURATH !
Great Black Goat of the.Woods,
I Call Thee forth !
(Kneel)
Answer the cry of thy servant
who knoweth the words of power!
(make the Voorish sign)
Rise up I say from thy slumbers
and come forth with a thousand more!
(make the sign of Kish)
I make the signs, I speak the words
that openeth the door!
Come forth I say, I turn the Key,
Now ! walk the Earth once more !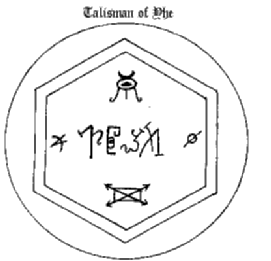 Cast the perfumes upon the coals, trace the sigil of Blaesu and pronounce the words of power:
ZARIATNATMIX, JANNA, ETITNAMUS,
HAYRAS, FABELLERON, FUBENTRONTY,
BRAZO, TABRASOL, NISA,
VARF-SHUB-NIGGURATH ! GABOTS MEMBROT !
And then the Black one shall come forth unto thee and the thousand Horned Ones who howl shall rise up from the Earth. And thou shalt hold before them the talisman of Yhe upon which they shall bow to thy power and answer thy demands.
When thou would banish those that you have called forth intone the words: IMAS, WEGHAYMNKO, QUAHERS, XEWEFARAM
Which closeth the Gate, and seal with the sign of Koth.